The 2014 Oscars are in the books! 12 Years a Slave won Best Picture, Matthew McConaughey and Cate Blanchett captured the Best Actor/Actress Awards and Jared Leto and Lupita Nyongo walked away with well-deserved Best Supporting nods. While we congratulate the winners, can we please talk about how much fun the 2014 Oscars were?
From surprise pizza parties to impromptu dance parties, here are the 5 funniest moments from the 2014 Academy Awards:
1. Ellen DeGeneres pokes fun at Jennifer Lawrence's clumsiness.
Another year, another amazing performance by Jennifer Lawrence. We're not referring to J-Law's role in American Hustle, oh no, we're of course referring to the best running Oscar subplot in recent memory: Jennifer Lawrence vs gravity. For the second consecutive year Lawrence lost the battle against Sir Isaac Newton's BFF, a point our ever-so-discreet host promised not to talk about.
2. The first ever Oscars pizza party!
This isn't Ellen DeGeneres' first hosting gig. The two time Oscar host knows that the first rule of being a good host is to keep your guests well fed, and that's just what DeGeneres did — in the middle of the ceremony!
Later in the evening, DeGeneres passed around Pharrell's hat to collect some of that hard earned celebrity money to pay for the pizza. John Travolta, Brad Pitt and Kevin Spacey all donated before DeGeneres asked Lupita Nyong'o, the Best Supporting Actress winner, to chip in.
"Your stock just went up, you got some money now, Lupita." Nyong'o responded by dropping her lip balm into the hat. Amazing.
3. Ellen attempts to set the world retweet record while hosting the Oscars.

Within four minutes of posting this Bradley Cooper captured Oscar selfie featuring an assemblage of Hollywood's finest performers, DeGeneres' snagged 135,000 retweets.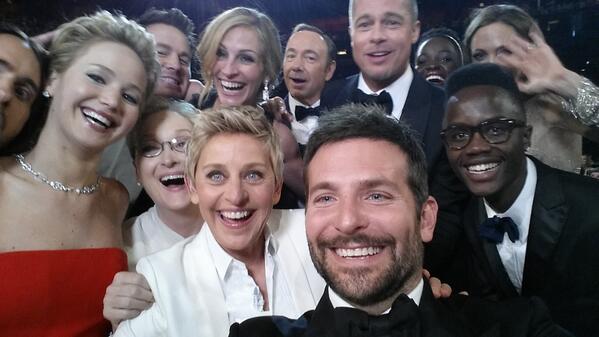 Two hours later and the retweet count was 2 million. Wow.

Update: New record set. Ellen's celebrity selfie is not the most retweeted tweet ever on Twitter. Say that three times fast!
4. Lupita Nyong'o, Meryl Streep and Amy Adams Dance with Pharrell.
Pharrell's energetic performance of "Happy" featured the singer busting a move and/or dropping it like it was hot with Lupita Nyong'o, Meryl Streep and Amy Adams.
While Pharrell was able to coerce Nyong'o, Streep and Adams into a dance, Jennifer Lawrence politely declined his invitation.
5. Kristen Anderson-Lopez and Robert Lopez win the Oscar for Best Original Song with "Let it Go" from Frozen.
Anyone who has ever practiced their Oscar speech in the bathroom mirror will appreciate the adorableness of Kristen Anderson-Lopez and her husband Robert Lopez's Dr. Seuss-esque acceptance speech.
"Happy Oscars to you, Let's do Frozen 2."
What was your favorite moment from this year's Academy Awards?
Read More:
Oscars 2014: See the 10 Best Dressed Stars and Grade Their Looks!
Oscars Flashback: Choose the Ultimate Best Dressed Star — POLL
Here's Why Ellen DeGeneres Will Rule the Oscars on Sunday — VIDEO
For the latest pop culture news and voting, make sure to sign up for the People's Choice newsletter!