The Academy handed out their awards on Sunday and now it's time for you to hand out yours! On Friday, we asked you to tell us who YOU wanted to see take home an Oscar this year, and while we expected a few differences of opinion, you completely shocked us by choosing five different winners than the Academy.
Let's find out who you believe are the real winners of this year's Oscars in the five most contentious categories.
Best Picture: Gravity

While 12 Years a Slave shined brightest on Hollywood's biggest night of the year, our People's Choice faithful chose the film about an unusual love triangle involving George Clooney, Sandra Bullock and space.
Kidding.
After tallying your votes, The Wolf of Wall Street came in second followed by American Hustle and 12 Years a Slave, respectively.
Best Actor in a Leading Role: Leonardo DiCaprio, The Wolf of Wall Street

While Matthew McConaughey's Oscar victory almost seemed predestined, Leonardo DiCaprio can take solace in the fact that he was the choice of the people. McConaughey finished in second place.
Best Actress in a Leading Role: Sandra Bullock, Gravity

Even though Cate Blanchett took home the Oscar, we feel as though she may be a bit Blue (Jasmine) over her fan vote loss to Bullock. Amy Adams finished a distant second.
Best Actor in a Supporting Role: Bradley Cooper, American Hustle

Bradley Cooper finished just ahead of Oscar winner Jared Leto to win the vote, but Cooper's greatest accomplishment of the night is taking the most popular photograph in award show history.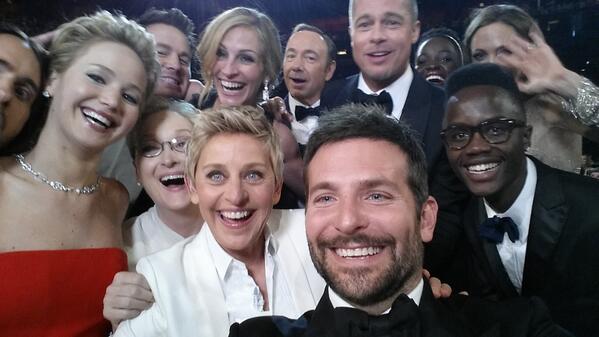 Best Actress in a Supporting Role: Jennifer Lawrence, American Hustle

Jennifer Lawrence was the overwhelming victor for Best Actress in a Supporting Role, but Pharrell's favorite new dancing partner Lupita Nyong'o finished in second place.
What do you think? Whose selections do you agree with more? The academy's picks or the People's Choice voters? 
Read More:
Oscars 2014: 5 Funniest Moments
Oscars 2014: See the 10 Best Dressed Stars and Grade Their Looks!
Nevermind the Academy! Who Do YOU Think Deserves an Oscar on Sunday? — VOTE!
For the latest pop culture news and voting, make sure to sign up for the People's Choice newsletter!